Hey there!
How are you doing today? Set some time aside for some self-care? I spent the day cleaning up my room. I let it get it a little out of hand! They say your room is a reflection of what your mind is like. Let's just say my mind is a bit of a messy place. I have a habit of letting clothes pile up until it gets to the point where my anxiety kicks in and forces me to get to cleaning!
I've tried many times to put my clothes away as soon as I take them off, but most times I just take them off, throw them to the side, shower and crawl in bed. With long days at work, I come home and don't want to do much. Anyone else feel the same? It's a lot to come home, cook, clean and make time to self-care. So, you're not alone if you haven't quite given enough time to take care of yourself. What I try to remind myself is that I really hate becoming anxious. It sometimes gets to the point here my chest is tight and breathing is a bit difficult. And if the place I sleep (my room) causes that, I need to make some changes. 
One thing that works for me is to have an accountability partner. I have a few people who check in with me to remind to do the little things, like putting my clothes away to prevent the anxious behavior, down time from social media, and other methods of self-care that work for me. 
Another thing that sort of helps me to put myself in the right mind set in the morning. I'm getting in a rhythm of starting my mornings off right. I like to write in my journal, read my devotional and pull from my deck of affirmation cards. Whatever affirmation I choose, that is what I focus on for the day. For example, if I pull patience, I try to practice patience throughout the day. End of the night I come back and write in my journal and  talk about how my day went and how practicing that affirmation went. Long story short, a routine works for me! 
And let me just say, sometimes your day will not go as planned. That's no reason to panic! In life there will be unexpected trials that we were not expecting to face. But what those trials are doing is setting us up to learn new tactics, learning new things in general. We learn not only about other things, but also about ourselves. We can learn what things we are doing great at, and things we need more work on. 
Don't be so hard on yourself. You're doing great! We know it gets hard and sometimes you just can't. But what makes it all the better is that you tried! Trying is better than sitting around waiting for something to happen, which never will because there was no effort. Try! That's all I ask. 
All in all, what works for me may not work for you. But if you don't try, you'll never know. Take some time out today to learn of "what works for you." You won't know it all in one day, but you can atleast learn a few things. And don;t forget, overtime, one thing that worked for you may not work anymore. Spa days used to work for me all the time, I'm slowly starting to realize that sometimes I feel it is more of a chore, more work to be done, rather than relaxing me and putting me at ease.
Either way, take it one day at a time. Love yourself for you are and reach for the stars! 
---
       OUR LATEST BOX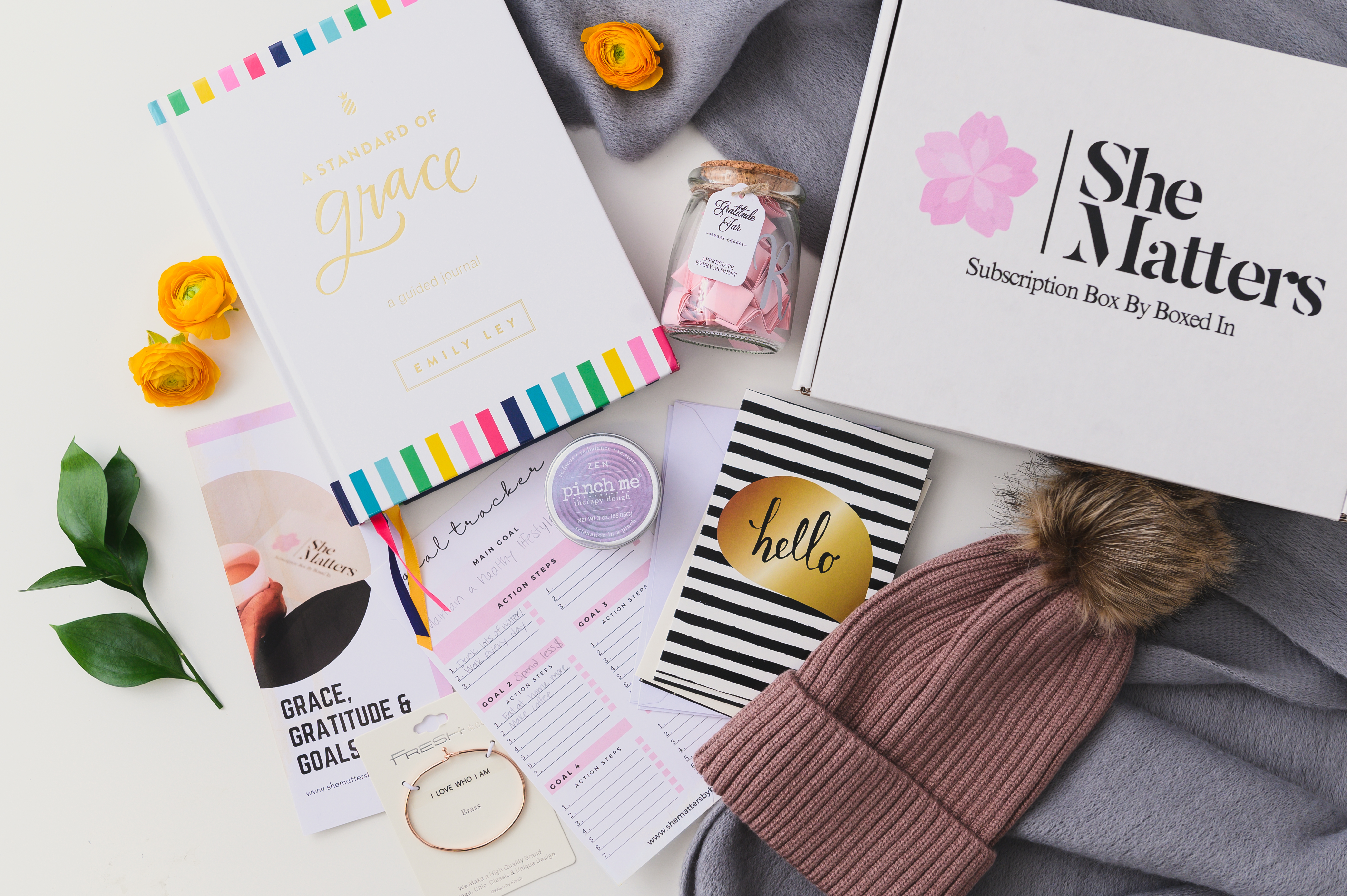 Say hello to our "Grace, Gratitude and Goals" box! We love EVERYTHING about this box. It always makes us so happy to put together such unique boxes. Some of these products you'd never find in a subscription box. And that is what is so great about our boxes. You may have never thought you needed an item until it arrives at your door step in a She Matters box! Were you able to get one? If not, click the link below to purchase before they sell out.