It's important to give your skin the proper nutrients it needs to keep from dry, flakey skin. Many of us suffer from different skin conditions. Making sure you have a skincare routine that is specific to your skin's needs is very important!!

As most of you may know, your skin requires a morning routine (to protect it from the sun) and a nighttime routine (to properly cleanse the day away). The idea is to apply water-based products to your skin prior to the oil-based products. This allows for the skin to seal in moisture. We have created a schedule for both a morning and night routine that you can follow, please see below. 
Morning Routine                       
Step 1: Cleanse                             
Step 2: Toner                               
Step 3: Serums                         
Step 4: Eye Cream                     
Step 5: Spot Treatment                     
Step 6: Moisturizer                     
Step 7: Sunscreen 
Night Routine
Step 1: Cleanse
Step 2: Toner
Step 3: Eye Cream
Step 4: Treatments
Step 5: Serum 
Step 6: Moisturizer 
FEBRUARY BOX FEATURE:
HELLA PRETTY SKINCARE - BUTT LIFTING MASK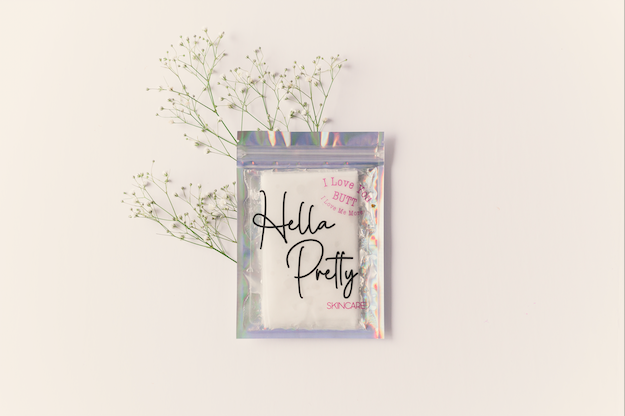 This is a butt lifting mask from Hella Pretty Skincare, made of natural ingredients, to hydrate and promote circulation, giving your booty and upper thighs a more toned appearance.

If you missed it in our February Box you can shop their website where you can find the butt mask as well as other products like face masks, bath soaks, and lip scrubs. 
---
OTHER TYPES OF SKINCARE FOR PLACES OTHER THAN YOUR FACE
Foot Masks - The feet are one of the most neglected parts of our bodies. There are so many different products out there to help give your feet the TLC that it needs from being cracked and dry. The Exfoliating Foot Peel by Baby Foot is a great treatment for your feet. The ingredients include lactic, glycolic, and malic acid along with some fruit extracts to help slough off the dead skin.
Ha

nd Masks

- If you want your hands to feel soft and moisturized, try out a hand mask. They can firm your skin for a youthful glow. Check out this

Hand Repair Collagen Infused Glove

. " Natural botanical extracts activated the basal cells of the skin which can help of reducing fine lines. It also slows down the reduction of collagen that comes with age so your hands look younger longer"
Lip Ca

re

- From lip scrubs to lip balms, find a lip care regiment that works for you. But remember that the skin on your lips is thinner than the skin on the rest of your body, so be careful with the products that you use. I love the Lip Conditioning Scrub by Bert's Bees. "It gently exfoliates skin conditions dry lips and creates a smooth soft canvas for a flawless lipstick or lip balm application"
* Please note, She Matters by Boxed In is not affiliated with the companies linked in this article. By clicking on any of these links, you will be leaving this website and will be directed to a third-party site, which we have no control over the content.