I ask myself all the time, "why is stress a thing?" Because quite frankly, I don't want any parts! I don't want to be involved in any stress-related activities, don't want anything to do with it. In those moments, I often find myself soaking in my emotions and slowly spiraling downhill.
I always hear about different stress-reducing/relieving activities, but never really venture out and try new things. But I will say that there are a few sets of things that work for me!
I did some research and came across some really good ideas. I'm learning that the activities that involve your senses (sensory) are actually very helpful! Here's what I've learned:
Exercise: High-Intensity Interval Training (HIIT) workouts are good for quick burst movements, which are good for relieving stress when you're feeling jittery or like your heart is beating out your chest.
Sensory: Things like popping bubble wrap are good for "getting out of your head and into your senses." You could also make slime, or play with kinetic sand.
Massage: Rub out those tension-packed parts of your muscles, the ones you can get to. There are "sensory receptors in the skin that send messages to our brain, signaling that it's safe to relax."
Organization: Things like organizing your shoes or doing a word puzzle are good for getting your brain going when your stress is more mental rather than physical. Your brain will tell you "we've got a problem to solve" and solving something will direct your brain away from the stress.
Dance: Put on your favorite song, create a playlist with your favorite songs or turn on the radio of your favorite artist and let your brain start to create feelings of inspiration.
Take a Bath: Changing your body's temperature is like rebooting your system. You're closing all those thought bubbles and resetting.
Bake: Baking is a sensory experience as well. It requires planning, concentration, and mindfulness.
Stretch: Take 10 minutes to stretch your muscles, in any way that feels good to you.
Meditate: It doesn't have to be long. Take a few minutes to focus on slow breaths. It's proven that focus breathing has a positive effect on calming your mind and relaxing your heart.
Cleaning: Cleaning requires planning but also involves physical activity. This will result in a sense of achievement.
Some of these are things you probably already do, but I do recommend getting into sensory activities. You know those fidget toy things kids are into? That's a sensory activity you could do. I always look at them and think "these kids just want any and everything" but really, it's something that could actually be useful for adults.
At the end of the day, what works for me may not work for you. Learn yourself, learn what you need, and do what's best for you! If you want to learn more, click the button below to check out the blog I read up on. If you haven't yet, check our website to see if we have any "Stress-Free" boxes left. If you sign up for our newsletter, you'll get 10% off your first box! Just scroll to the bottom of our homepage, click here.
---
STRESS-FREE BOX FEATURE: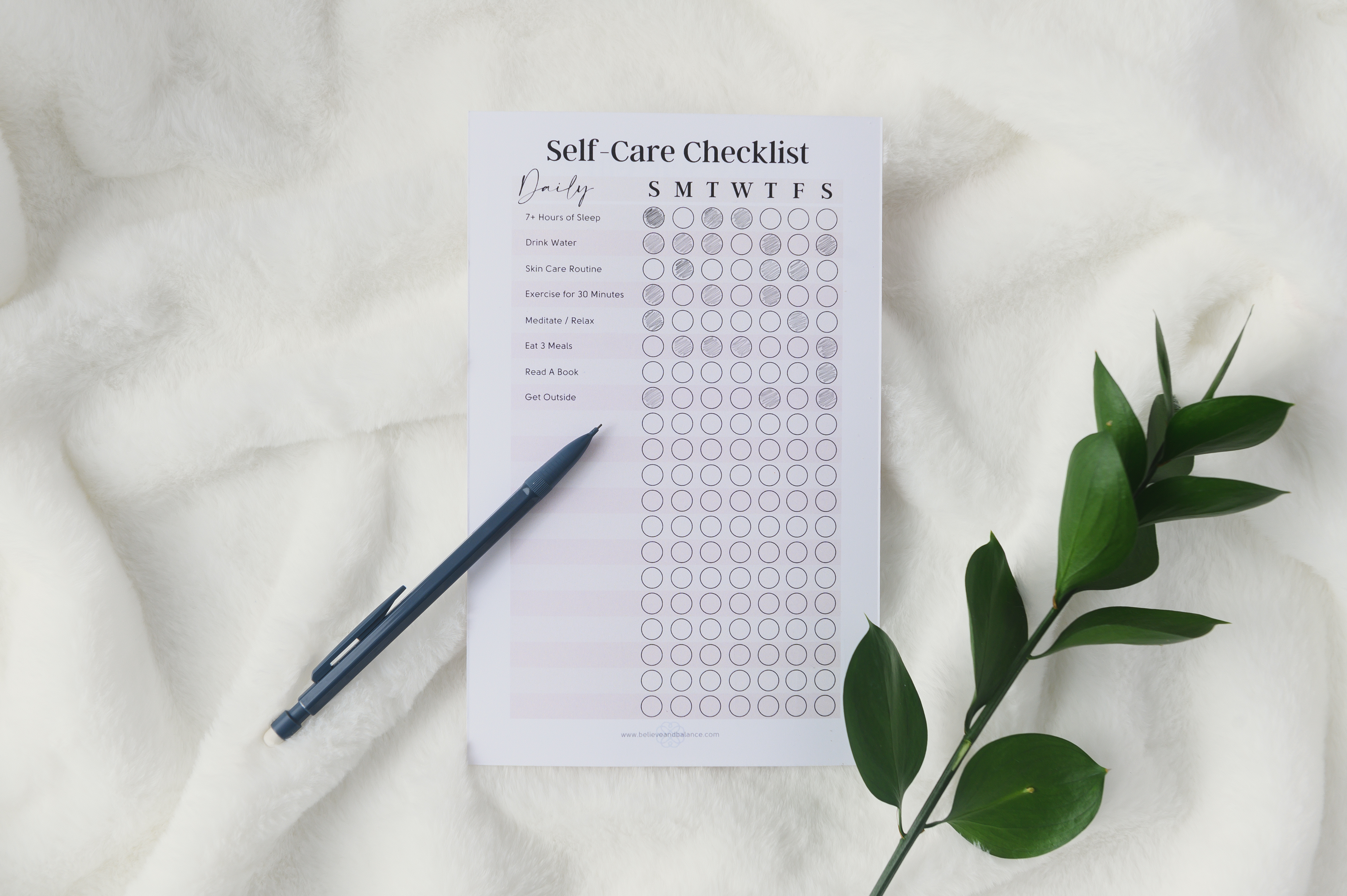 Get into this Self-Care tracker! We created this tracker for our stress-free box as a way for you to be sure to prioritize yourself. Practicing self-care can be a little overwhelming at times. You struggle with finding what works for you and often times fall short with practicing self-care. Use this tracker to add those stress-reducing activities to and track which days you do them! Use the button below to purchase the Stress-Free box.