Washcloths are something my entire family uses. We go through washcloths like juice...I know, weird analogy, but you get the picture. I read up on whether washcloths are better than loofahs, and I'm not entirely sure if they are. Washcloths are a plus since they can give a gentle exfoliation, depending on the texture. And they're pretty cheap! Who is going to say no to that?
On the contrary, I read that washcloths make a great host for mold and bacteria. Since they're left out to dry, that allows for mold and bacteria. YUCK! But really, it has a lot to do with how long they're left there, or how many times they're left there. It's good to switch out your washcloth after a maximum of 3 days! Many sources say after a day, but I'll be real, I don't do that. But if you use a washcloth to wash your face, please ditch that and use your fingers or get a face brush. Microfiber cloths are also a better choice. With a washcloth, you're spreading acne-causing bacteria back onto your face, and that's harsh!
Like washcloths, Loofahs hold bacteria, but they do so more than a washcloth. That's simply because of their shape. It allows for moisture to get trapped in it, and for those of you who know, bacteria love dark and moist places. Since they're also good for gentle exfoliation, they help your pores to release oil and dirt. Like washcloths, we leave loofahs to dry in the shower, but it's actually worse to leave them in there, rather than washcloths.
Now, I love soft skin. Who doesn't?! I know they say not to, but I use my exfoliating glove practically every day. Probably around 5 days a week. I tend to have sensible skin and those with sensitive skin should exfoliate once a week. Otherwise, 2-3 times a week is recommended. But when I say I use it almost every day and don't really see any issues, I mean it! I wonder if my exfoliating glove is just REALLY gentle...I'm one out of billions of people though, so don't do this unless you know your skin type. I just am sure to properly moisturize my skin afterward, maybe that's why. But if you don't have one already, invest in an exfoliating glove! They work amazingly to clear the dead skin on your body. And if you didn't know, your body sheds 500 million skin cells in a day!
---
MAY BOX FEATURE:
CHARCOAL INFUSED EXFOLIATING GLOVES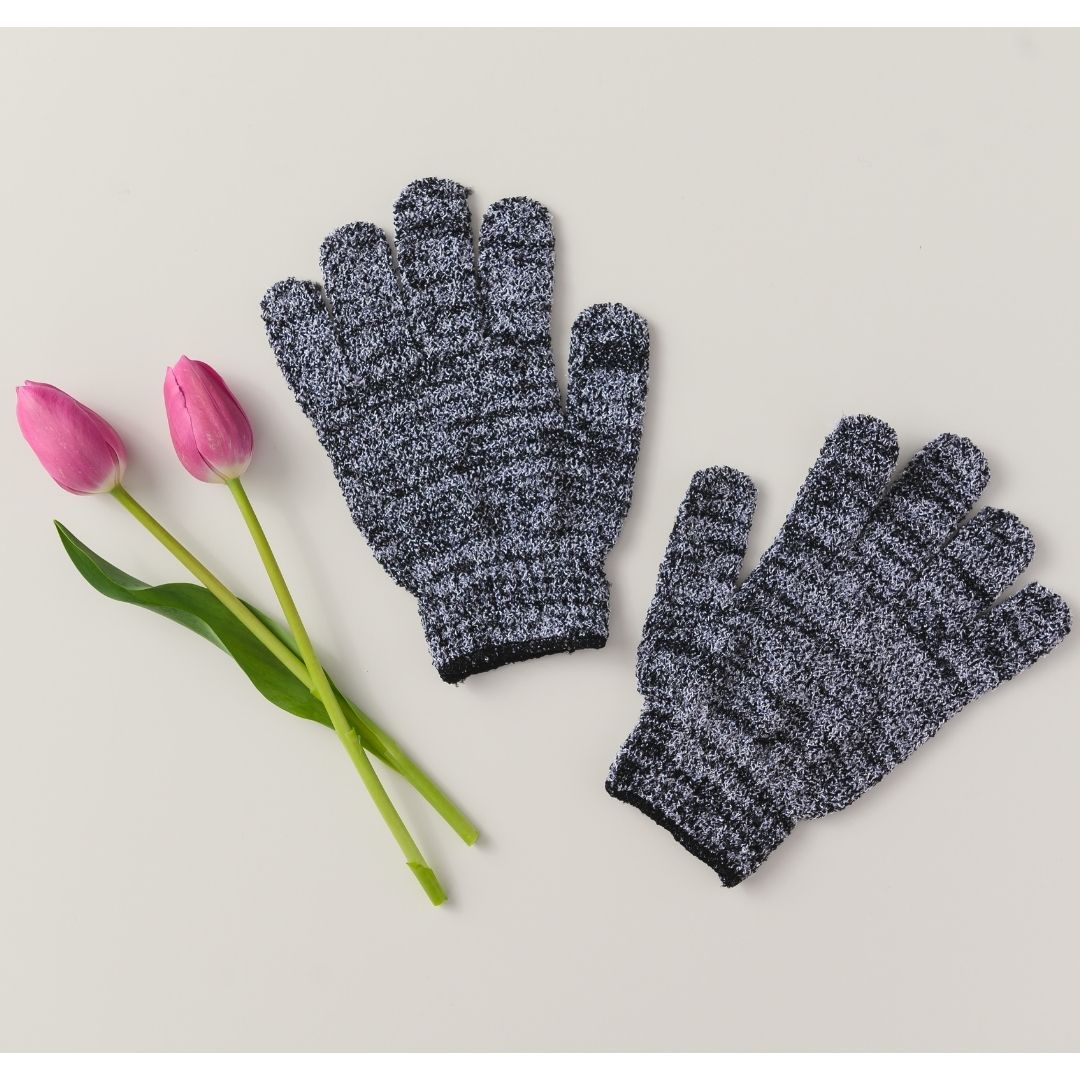 We included this amazing Charcoal Infused Exfoliating Glove by KOL. These gloves are made to deeply cleanse, gently exfoliate and draw out impurities from your skin. It'll also fight odor and give your skin a nice, healthy glow!
Charcoal is also a great ingredient for reducing acne and improving skin health. If you are one who deals with body acne, invest in this glove!